Introduction
In the dynamic realm of business, the role of an appointment setter is pivotal in reaching your target audience effectively. These individuals serve as the critical link between your company and potential clients, making their selection a mission of utmost importance. This comprehensive guide is your compass in navigating the appointment setter hiring process, ensuring that you unearth the ideal candidate for your team.
Step 1: Evaluating Your Hiring Needs
Before embarking on the journey of recruitment, it's imperative to define your specific requirements. Let's break it down:
Assessing Workload and Objectives: Kickstart the process by closely examining your current workload and objectives. This step will help you determine the volume of appointments required and set your growth targets.
Quantity vs. Quality: Consider whether a solo appointment setter or a team of them is the optimal choice, aligning with your workload and goals.
Step 2: Sculpting the Ideal Candidate Profile
Finding the perfect appointment setter begins with shaping an impeccable candidate profile tailored to your organization's demands. Here's the blueprint:
Defining Desirable Qualities and Skills: Outline the specific traits and competencies your candidate should possess. Effective communication, tenacity, and adaptability are often paramount.
Industry Expertise vs. Versatility: Depending on your industry, you might seek candidates with industry-specific knowledge or those who can quickly adapt to new environments. Your choice here is pivotal.
Step 3: Financial Planning
The recruitment process bears financial implications, demanding a well-structured budget. Follow these guidelines:
Calculating the Cost: Ascertain the costs entailed in hiring, encompassing salaries, training, and recruitment expenses.
Budget as Your North Star: A meticulously planned budget will be your guiding star, ensuring financial prudence throughout the hiring expedition.
Step 4: Crafting a Persuasive Job Description
Your job description acts as the initial call to potential candidates. Here's how to craft an irresistible one:
Paint a Vivid Picture: Go beyond the standard laundry list of responsibilities. Showcase the intrinsic value of the role within your organization.
Highlighting Duties and Benefits: Clearly delineate day-to-day responsibilities while elucidating the rewards and benefits of joining your ranks.
Step 5: Broadcasting Your Opportunity
Where you choose to broadcast your job opening can profoundly influence the quality of candidates you attract. Consider these tactical moves:
Platform Precision: Opt for job posting platforms tailored to your industry and target demographic.
Tailored Talent Attraction: Fine-tune your recruitment strategy to magnetize candidates who seamlessly align with your envisioned profile.
Step 6: The Interview Odyssey
Interviewing is the pivotal phase in the appointment setter selection. Here's how to navigate it with finesse: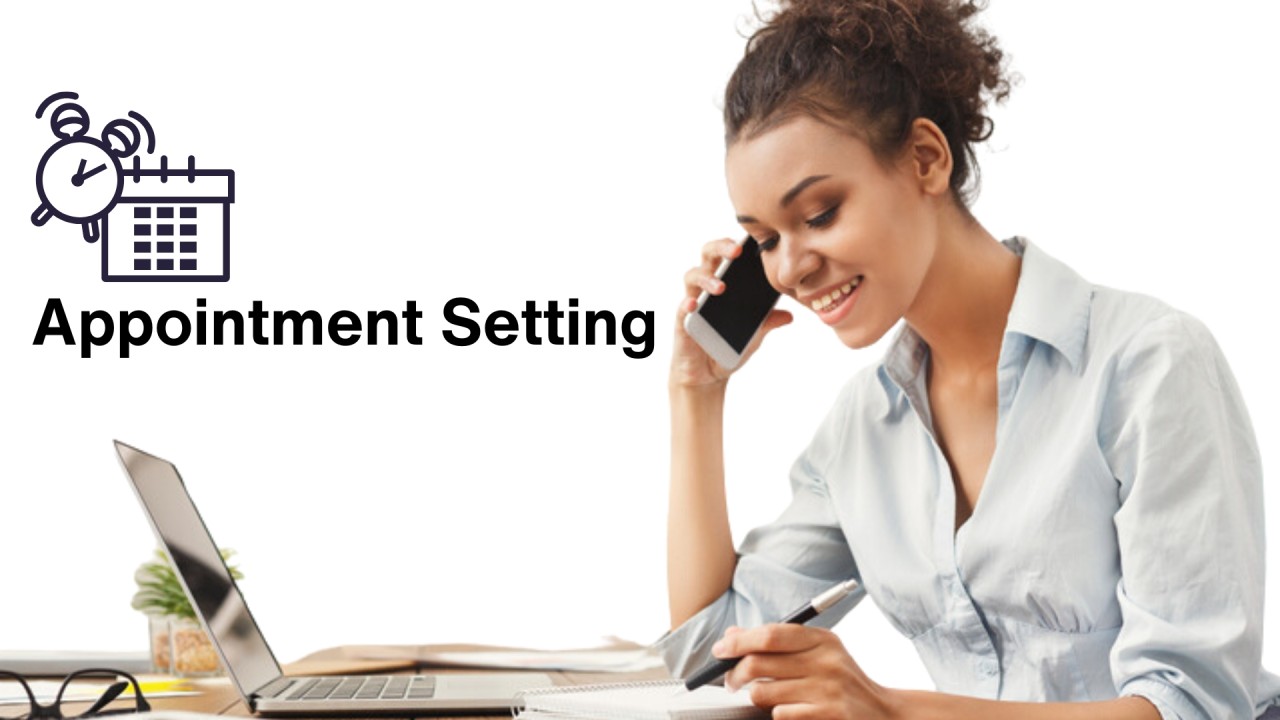 Step 7: Extending the Offer and Launching Success
Once the ideal candidate surfaces, it's time to extend an offer and pave the way for a seamless onboarding experience:
Art of the Offer: Craft enticing job offers that leave no ambiguity regarding compensation, benefits, and role expectations.
Onboarding Excellence: Develop a comprehensive onboarding program that charts the course for your new appointment setter's triumph from their very first day.
Conclusion
The selection of the right appointment setter is a decisive milestone with far-reaching implications for your business's growth and prosperity. By embracing these steps and adopting a methodical approach, you significantly enhance your prospects of finding the perfect addition to your team.